Welcome to Homeschool Art Class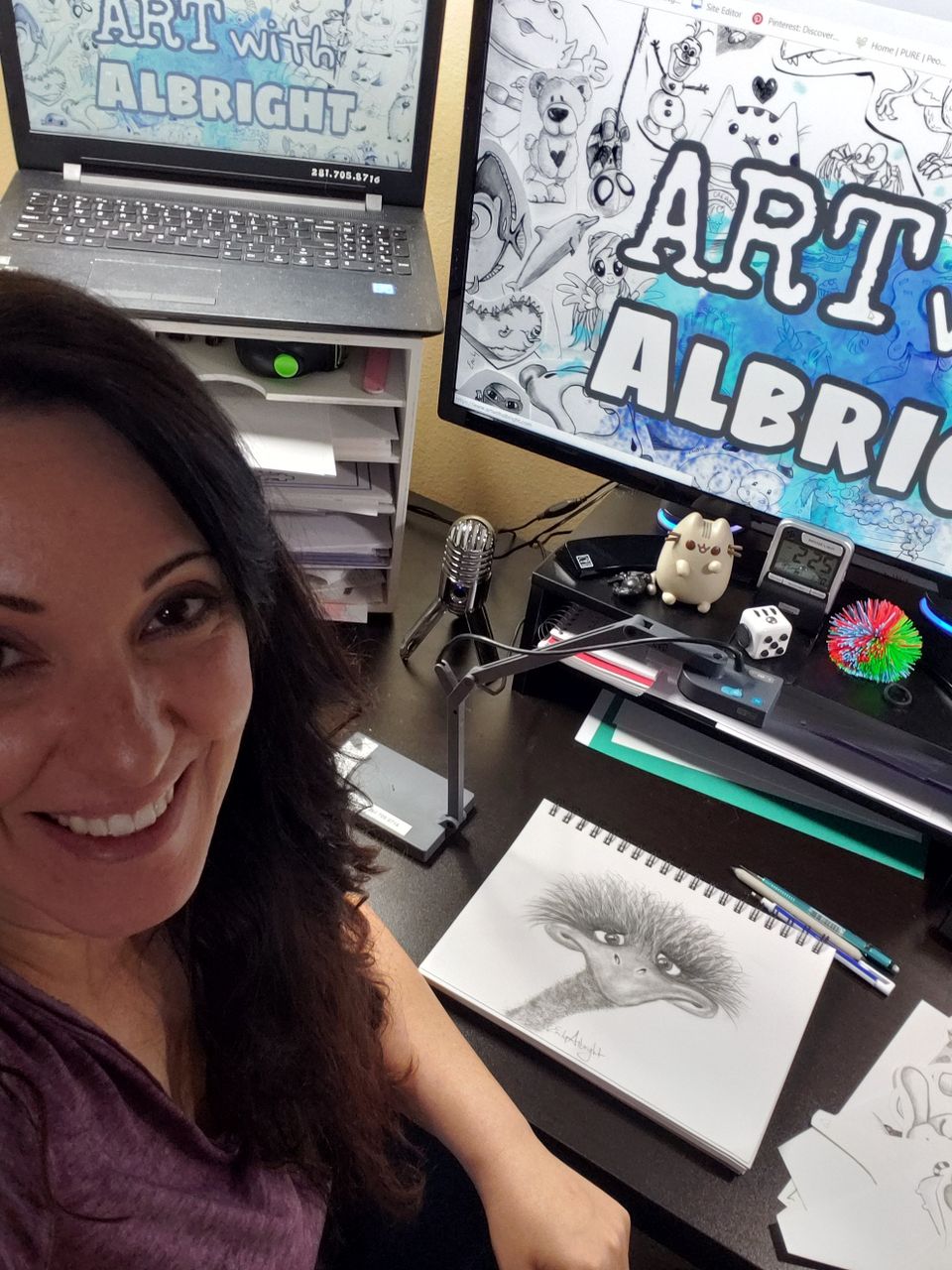 All artists are welcome to enroll in this class!
One fee per family for this live online class! Online class times are posted as U.S. Central Time Zone.
During the semester I will teach a new adventure every class! 
Each class will be posted in advance so you will have time to get the supplies. If you miss the class I will send you the recorded lesson. You will have 3 days to do the lesson.

Please log in to class 5 minutes early to ensure your connection and go over supplies.

At the end of each class, the students will show their work and this will help build confidence and peer encouragement!

Each class is all-inclusive and unique!
Supplies we could possibly use in a  class:
Supplies we will use:
Draw Class:
White paper
Pencil HB
Eraser
Stomp or blending tool (q-tip)
Colors- Markers, crayons, or colored pencils
Create Class:
Pencil with eraser
2 pieces of white cardstock or mixed media paper (thick paper the same size)
Colored pencils or markers
Black felt tip pen or fine tip black marker
Glue stick
Scissors
Watercolor Painting Class Supplies :
Paper - watercolor paper 9 x 12
Paint - watercolor paint tray not tubes
Pencil and eraser
2 qty - Jars of water
Paper towels or napkins
Paintbrushes 
Paint tray for watercolor 
Drinking straw
Black marker
CLICK HERE to the 

Supplies page

 for brands & links where to purchase.
For examples please check out www.Facebook.com/artwithalbright
www.MeWe.com/p/artwithalbright
Draw! Paint! Create!
Homeschool Art Class - Schedule & Pricing
Fall Semester
September - December 2021
Fall 2021 Tuesday 1:00 - 1:55 PM U.S. Central Time Zone
Every class is new and exciting!  (The artwork for each class session is listed on the calendar).

--> Choose a Class for $15 Each!  ONLY ONE FEE PER FAMILY!

--> SEMESTER BUNDLE MEMBERSHIP savings will be available for a prorated discount. See those options when selecting classes for tuition payment!
Continue to Scroll Down for Enrollment
Continue to Scroll Down for Enrollment
New Designs Coming for Every Class
Continue to Scroll Down for Enrollment
ABOUT
In each class, your artists will learn to draw, or paint, or create. No drawing experience is needed for this class! No experience needed! 
PRIOR TO CLASS
Students should start logging into class about 5 mins before the scheduled start time. This allows time for you to resolve any technical issues with your device's connection.  If you are using a battery-powered device (laptop, Ipad, etc) be sure it is fully charged or connected to the power supply.
I will use this time for students to show me any art they have completed and any questions prior to starting the class session. 
START OF CLASS
First thing, we will go over the supplies needed for the lesson and will ask each student their name. I encourage students to use the chatbox during class for questions. If they have an answer to my questions they are then allowed to unmute to answer the question. I love class participation!  Especially when we learn from each other about art!

Then I will begin the step-by-step process of drawing out our character in easy-to-follow instructions. Each step will be broken down to the simplest form by using common shapes like circles and lines.  My favorite is comparing shapes to food!  Like a potato or a pizza. This frees the artist to allow for imperfections in their initial sketch. Once we build our character out, we will add details, texture, shading, and form to our drawing. If it is a painting we will add these using watercolor paints.

My teaching style is very patient and fun! We love to laugh and enjoy being creative together. My passion is to inspire kids to be creative in hopes this will build their confidence as an artist and as an individual. Each student is important and contributes to the class.
END OF CLASS
At the end of class, each student is given the opportunity to show their work on the screen and tell the class about their work!  This is a big confidence booster!  You can see how much they worked and listened in class when they hold up their final art piece!  Thank you for encouraging your artist to be creative!
Continue to Scroll Down for Enrollment
Continue to Scroll Down for Enrollment
Q:  How do I enroll in a LIVE ONLINE session?
Enroll in the class of your choice with just a few easy steps.
1) Submit enrollment contact information in the form below.  It is very important that you provide accurate contact information (particularly a valid email address that you monitor).  I need to send you the online class links in order to have access to the class online.  I will be using the email address you provide at this step to send the link.
2) You will then be directed to begin selecting the particular class session(s) that you would like to purchase.  They will be added to your shopping cart.
3) Checkout & complete payment.
Monitor the email address you provided for an email from me with the class access links (ArtWithAlbright@gmail.com).  I strive to be responsive within 24 hrs.  Suggest adding ArtWithAlbright@gmail.com to your safe sender list to ensure it reaches your inbox instead of the spam/junk folder.
Complete the Form Below to Enroll

 

Upon submitting the form you will be directed to choose your class(es) and tuition payment page to complete enrollment